"ECHOES FROM THE BORDERLINE"
DOUBLE LIVE ALBUM

LIVE RECORDINGS & AUTO-BOOTLEGS
/ PHOTOGRAPHS BY ZIM moriarty
DOUBLE-CD & TRIPLE-VINYL 12-INCH RECORD available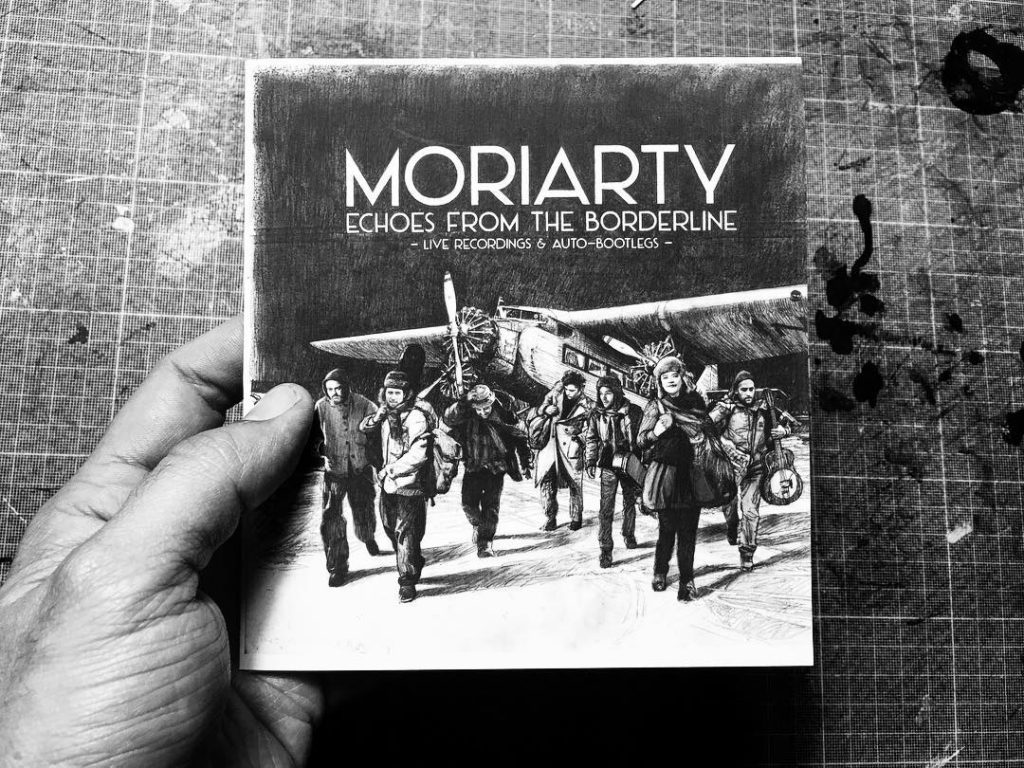 /// Moriarty is proud to announce that the Ulule objective has been attained! Consequently, there will be a Photobook format for the Live album. ///
Ten years ago – October 2007 – we released our debut album, "Gee Whiz But This Is A Lonesome Town". We didn't know it then, but it was the start of a never-ending tour that would take us some 514'000km around the planet, through 800 concerts and 25 countries… A wild ride across space and time, a decade of musical journeys and human encounters, that left our minds bedazzled, exhausted, blissful and (happily) insane.
Now, to celebrate this 10th anniversary, we've decided to embark, for the first time, on a live album project: "Echoes From The Borderline". A collection of 24 songs recorded during all these gigs, by the band and their faithful sound engineers: wild live versions featuring guest musicians, unreleased songs, primitive acoustic performances, electric experiments…
Simultaneously, as a visual counterpart to these musical traces, we'll be publishing a large-format Photobook containing the analog photographs shot by Zim Moriarty during the tour, bearing witness to the places seen, the people met, the gigs and the audiences, all the lifetime spent on the road… captured on film, through the 35mm lens of a Leica.
This live album will be released in four different formats: Double Digital Album, with a pdf booklet / Double-CD, with a 48-page photo-booklet / Triple-Vinyl 12-inch record / Large-format 200-page Photobook, containing the pictures shot by Zim during the tour (and including the 2 live CDs).
The Triple-Vinyl and the Photobook will be united to form the "Live-Set", a complete account, both sonic and visual, of the experience of this ten-year tour, as seen from the inside.
As was the case for our previous records, we're self-producing this project through our own micro-label, Air Rytmo – and we're relying on our listeners again, to help us in financing the records, the artwork, the photo-book into existence: it will thus be possible to pre-order "Echoes From The Borderline" in all its different formats –thus gaining access to exclusive content, live songs and limited edition artwork – through the crowdfunding website ulule.com, starting July 12th 2017…
"… All roads lead to roam!"
Z. Moriarty
Order « Echoes From The Borderline » now
"ECHOES FROM THE BORDERLINE"
ENREGISTREMENTS LIVE & AUTO-PIRATAGES / PHOTOGRAPHIES DE ZIM MORIARTY
/// Moriarty est fier de vous annoncer que l'objectif Ulule a été atteint! Grâce à cela, l'album Live pourra sortir sous le format d'un photobook. ///
Il y a dix ans – le 15 Octobre 2007 – sortait notre premier album " Gee Whiz But This Is A Lonesome Town". Nous ne le savions pas, mais c'était le début d'une tournée sans fin qui allait nous emporter quelques 514'000km autour du monde, à travers 800 concerts et 25 pays… une chevauchée dans le temps et l'espace, une décennie de pérégrinations musicales et de rencontres humaines qui aura laissé nos esprits hagards, éblouis, et (probablement) un peu déphasés.
Pour fêter ce dixième anniversaire, nous avons décidé de nous lancer, pour la première fois, dans un grand projet d'album live: "Echoes From The Borderline". Une collection de 24 chansons enregistrées sur scène pendant les tournées, par les membres du groupe eux-mêmes et leurs fidèles ingénieurs du son: versions de concert déchaînées, accompagnées d'invités musicaux, chansons inédites, performances acoustiques primitives, expérimentations électriques…
Simultanément, en contrepoint visuel à ces traces musicales, nous publierons un Livre-Photo grand format qui contiendra les photographies argentiques prises par Zim Moriarty tout au long de la tournée, témoignant des lieux traversés, des personnages croisés, des concerts et des publics, du temps de vie dépensé sur la route… et capturé sur la pellicule par l'objectif du Leica.
Cet album live sortira sous quatre formats différents: Double Album Digital, avec livret pdf / Double-CD, avec un livret photo 48 pages / Triple-Vinyle 33 Tours / Livre-Photo grand format de 200 pages, contenant les photos de tournée de Zim (et les 2 CDs live inclus).
Le Triple-Vinyle et le Livre-Photo pourront être réunis pour former un "Coffret-Live", récit sonore et visuel de cette expérience de dix ans de tournée, vus de l'intérieur.
Comme c'était le cas pour nos disques précédents, nous auto-produisons ce projet via notre micro-label Air Rytmo – et nous faisons de nouveau appel aux auditeurs pour nous aider à matérialiser ces disques, leur graphisme, le livre photo : Il sera ainsi possible de pré-commander 'Echoes From The Borderline" sous tous ses différents formats – en ayant ainsi accès à des contenus exclusifs, des chansons inédites, et des oeuvres graphiques en edition limitée – via la plateforme de financement participative ulule.com, dès le 12 Juillet 2017…
"… All the time went down the drain / Yet the song remained the same … "
Z. Moriarty
Commander « Echoes From The Borderline »
/// « ECHOES FROM THE BORDERLINE »
LIVE RECORDINGS & AUTO-BOOTLEGS / ANALOG PHOTOGRAPHS BY ZIM on ULULE.COM ///

Listen to …